Ava Marie's Handicrafts Religious Wood Carvings
Time to order your Holy Week Image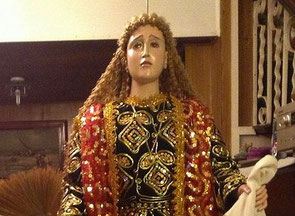 Here you can download or have a look at the various Holy Week Images as examples used durin the procession in Paete, Laguna.
Click Here! Holy Week Images Pdf
Please be patient, due to the size of the pdf file it will take one or two minutes to open or download.
WOW! Yes we have produced the Philippines largest San Pedro Calungsod statue so far!
This unique San Pedro Calungsod statue was  an order of
Governor Joey Salseda, form Albay Bicol.
The height of the statue: 10 feet, plus 1 feet for the base.
Made to 100% out of Baticulin wood.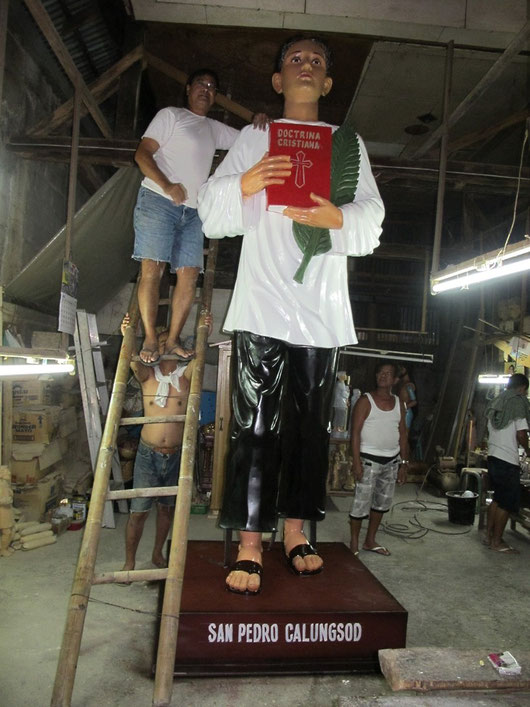 Example Photo Gallerie
Ava Marie's Handicrafts, Wood carving in Perfection!
is one of the famous and most recommended Carving Art Shops in Paete, Laguna. Maria Teresa Agbada the proprietress and and her Swiss husband Chris Kloetzli, the manager of the shop have experiences for many years in the carving business. The employed carving artisans belong to the best in Paete, are very high skilled and are able to satisfy all the requirements regarding to the wishes and orders of our customers.
Ava Maria's Handicraft Shop has a long list of dozens very satisfied customers and the unique works have also been exported to Hawai and America.
Last updated Feb 15. 2015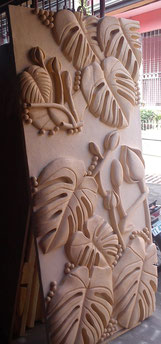 Ava Marie's Handicrafts
Chris & Tess Kloetzli-Agbada
Paete, Laguna Philippines
YOU CAN VISIT OUR ART SHOP IN:
  -  J.V. Quesada St. 2-024 Paete 4016 Laguna
and our Workshop:
  -   8-116 V. Ac-ac Street, Paete 4016 Laguna
Tel/Mobile:
++63 (0) 917 526 9844
++63 (0) 949 700 2684

++63 (049) 557 0394
  - email:  info@philippinescarvingart.com

Here on this website we can only show you a limited selection of our work, nevertheless we are going to update the site with fotos from our outstanding artwork.